Ferment your innovative thinking within Crimson's thought-leadership community at VINTECH, a wine tasting and networking event for digital and IT leaders in the financial services sector.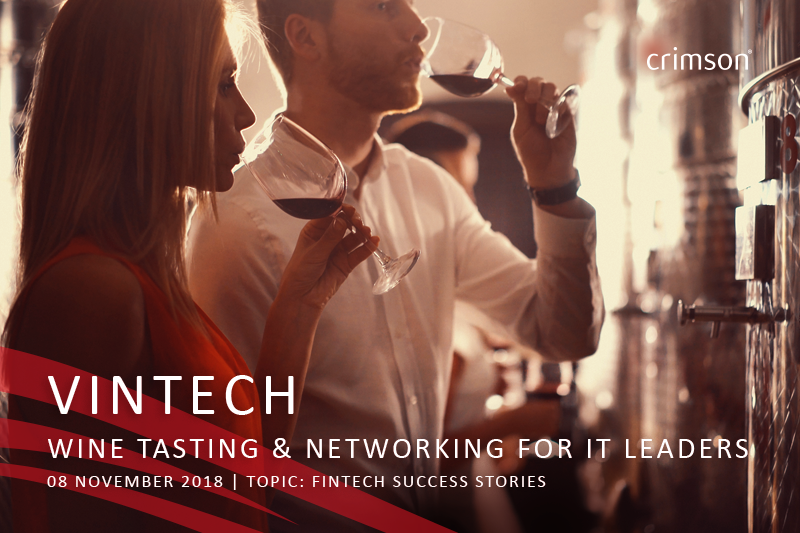 Where:
TT Liquor, 17B Kingsland Rd, Shoreditch, London, E2 8AA
When:
Date: Thursday 08 November 2018. Click here to add to your diary.
Arrival Time: 6pm for welcome drinks.
Please fill in the form if you wish to attend this FREE event >>>
Event Information:
Crimson is hosting a fabulous wine tasting masterclass and food paring for our key CIO level clients and other IT leader guests. This event will take place at TT Liquor, a specialist drink emporium and cocktail bar situated in East London's Shoreditch, just a stone's throw from the financial district in the City.
A fun, informal, and enlightening occasion, our guests will have the chance to network with some of the leading minds in the FinTech sector and wider IT communities. They will also be able to discuss opportunities with our IT recruitment consultants and Microsoft experts whilst sampling a spectrum of wines and tucking into a range of delicious canapes.
We are pleased to announce that speakers from change round-up investment app Moneybox and "the third largest FinTech company in the world" Finastra, a company that provides a dynamic integration platform to financial institutions, will be sharing insights with attendees.
Ashleigh Petrie from Moneybox will discuss how the investment app has got where it is today, its attractiveness to its target customers, driving mass adoption, new product ideas, open banking, and how Moneybox collaborates with other financial services organisations.
Mitesh Soni from Finastra will be sharing his perspective on how financial software providers like Finastra are collaborating with FinTech organisations, and he will be giving his views on the current and future states of the FinTech sector.
During her speech, Miranda Khadr from Pitch Black Technology will be discussing the creation of business funding match tool Pitch 4, its concept, and its importance to the financial market place. She will be sharing her views about how the financial services sector is changing, and the future for FinTech.
Learn more about our speaker organisations:
Speakers:
Ashleigh Petrie
Ashleigh, a Product Manager at Moneybox, has worked in product engineering and development for just over six years. She began her career at Jaguar Land Rover, and then she moved into the financial sector working at fresh-thinking disruptor Tandem Bank. Tandem provides users with financial insights into money management, bills, and 'spending money' via an app.
At Moneybox, Ashleigh is responsible for researching, defining, and delivering new product opportunities. She focuses on engaging and understanding users, and ultimately aims to deliver market leading services that will set Moneybox apart from its competitors.
Mitesh Soni
Mitesh, a Senior Director – Innovation and FinTech at Finastra and Mentor at accelerator programme Techstars, is a technology leader with more than 20 years' experience working in the financial and banking sectors. He began his career at IBM, working with clients in the global financial markets, and since he has spent more than 15 years leading technology teams in major financial organisations, including; HSBC, RBS, ING, RMB Private Bank, Deutsche Bank, Investec, Standard Bank, and Renaissance Capital.
In his role at Finastra, Mitesh is responsible for building and enhancing FinTech community ecosystems. This role suits him perfectly as he is passionate about digital transformation, innovation, and disruption.
Miranda Khadr
Miranda Khadr, Founder at Pitch Black Technology, has almost 15 years' experience leading at UK wealth management organisations. She started to buy and selling property whilst she was at university and, shortly after her MA, she began working for a UK wealth management company, sourcing debt for clients. Aged 26, she became one of the youngest Partners at a FTSE wealth manager. In 2014, she launched her own debt-funding and financing businesses, which helped major borrowers like Premier League football clubs and other well-known brands. She also runs a litigation funding company, alongside several other property and business interests.
Pitch Black Technology is on the verge of launching (January 2019) its new and unique Pitch 4 services. Pitch 4 is a multi-access platform which uses big data analytics and AI to match organisations and individuals to funders. It enables users to compare the funding opportunities available to them. These users will include everyone from individuals looking to grow their property portfolios through buy-to-let, to businesses that want to access working capital.
Host:
Gary Wills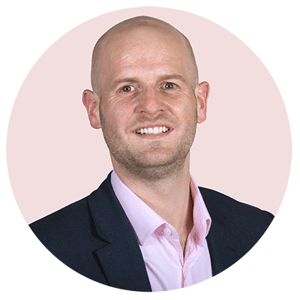 Gary is an IT recruiter with more than 15 years' experience. He specialises in recruiting for challenger banks and within the FinTech sector. He has several financial services clients, providing them with skilled staff resources to build solutions in development and architecture environments and implement large scale digital transformation programmes to investment organisations, hedge funds, and FinTech companies.
Travel:
TT Liquor is situated in the heart of East London and is just a short walk from Hoxton and Shoreditch High Street stations. There will be free alcoholic drinks available at this event, so we recommend that people travel via public transport.