Your experts in IT Project Management Careers
We work with you to find you the best fit and the package you're after. Our professional team are specialists in IT recruitment. They are armed with the right knowledge and tools to advise you on market trends, help you prepare for your interview, and secure your next position.
Whether you're a Junior / Graduate IT Project Manager or a Senior IT Project Manager / Programme Manager, we can match you to IT Project Manager jobs.
What is the UK average salary of IT Project Manager jobs?
The average salary of an IT Project Manager in the UK is £50-£65k or £500 to £650 a day for IT Project Manager Contract Jobs - ( 10% increase for London / 10 - 15% for roles deemed Inside IR35.
Seven common interview questions for IT Project Managers jobs
What methodologies have you used to manage a project? (agile, waterfall etc).




What budgets were assigned to the previous projects you have worked on?




Have you been involved in budget planning, tracking and management?




Describe a project you were involved in that didn't go to plan. How did you get it back on track?




Describe how you have previously dealt with challenging stakeholders and resistance to change




Describe how third-party suppliers have helped you deliver desired business outcomes




How do you bridge the gap between technical and non-technical teams?
Our clients range from global organisations and technology brands to charities and SMEs. They approach us directly to help them secure the best permanent and contract IT Project Managers on the market. Brands Crimson works with include:
Water Plus
Manpower
HS2
VW Group
Yusen
NHS
Various Universities
Eversheds
Pendragon
Plan International
5 reasons why you should trust Crimson with your IT career
We listen and advise you to ensure we have a detailed understanding of your current situation and career aspirations.


There are thousands of recruitment organisations, Crimson specialises in IT and IT Project Management roles.


Our knowledge of IT exceeds that of a typical recruitment agency; as an IT consultancy and a Microsoft Gold Partner, we understand IT.


As part of the £1bn global talent and technology company Nash Squared, we help produce the world's largest digital leadership survey.


We're a trusted member of the IT community, whether its delivering workshops to CIO's or our annual IT Salary Survey. We have an unparalleled network and formidable market knowledge.
Submit your CV for IT Project Manager Jobs today.
What our IT Project Managers say about us
""From start to finish, dealing with Ian at Crimson was genuinely a dream. You could instantly tell that Ian knew the role and the client inside out, so I felt very lucky when he approached me to be a candidate for HS2. Throughout the recruitment process, Ian was constantly on hand to provide advice and guidance. Having worked with several different recruiters previously, I found Ian to be personable, professional, and absolutely invested in me as a candidate.""

- Alex Ellson, Project Manager, HS2.
Enjoy a world-class candidate experience
We measure candidate satisfaction to understand how job seekers feel about their experience with Crimson, which demonstrates our commitment to delivering exceptional candidate care.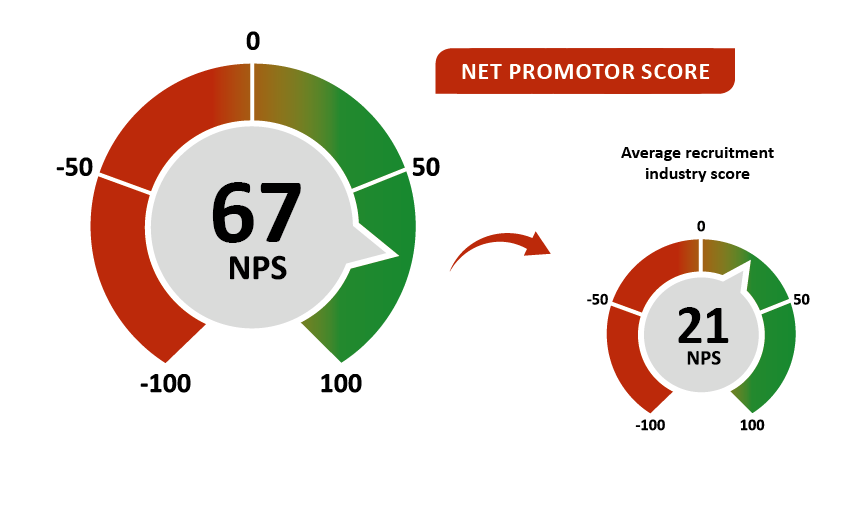 Why do candidates choose us to help propel their career ?
Watch the video below to understand why our consultants are so popular amongst the IT community.