A roadmap and model to avoid falling behind to agile market entrants
Digital disruptions are transforming industries across the globe; simpfiying products, increasing accessibility, empowering customers, and eroding brand loyalty.
In the digital age, a history of success cannot be relied upon when competitors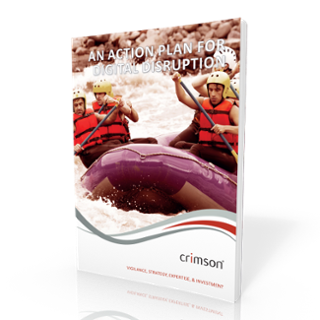 innovate and customers vote with their feet. Organisations from every sector are turning to digital technologies to engage consumers, optimise operations and transform products.
Don't get left behind!
Download this FREE white paper, to tap into the knowledge and experience of some of the world's leading disruption consultants.
Find out how to protect your organisation from disruptions in your sector.
Learn how to transform a large company into a disruptor.
Use our Disruption Matrix diagram to generate new ideas for your products and services.
Compare disruptions from other industries to your own and be inspired by their successes.
Gain a long term view of how disruptions can change a marketplace.
Fill in the form on the right to download our findings for FREE now >>
The conclusions in this report have been based on extensive research and interviews with CIO-level disruption specialists. Check out the bibliography for all sources.